So around 11:30pm I was checking my simblr before bed, I saw that Trapping made a request for iCad's colors in a photoshop action. I said I'd look into after sleeping. Well... I tossed and turned for an hour because now I had this on the brain so I get up and do it.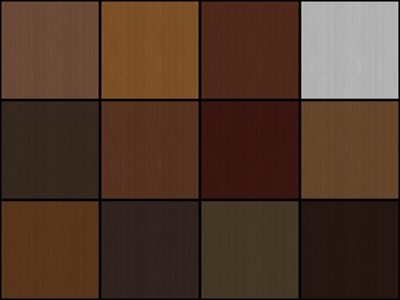 iCad Woods in Action
Just drag and drop into your actions in Photoshop and boom! Recolors.
Notes:
The base you want is either Pooklet's Volatile or Apartment Life's Light Wood.
I didn't feel like doing different actions for all four ways I do it.
This includes her Cottage White from her indoor set as well as ALL of her hex codes!
Yup, that's right!
I hope it's okay with iCad that I did this and I don't get a smack down or anything. :)
Oh right, made with Photoshop CS2 because I'm lame and hate updating what I've already paid for. :P
So now I'm wondering whether or not to do Anna's old colors. I know she's going to release the new ones after she tests. At least that is the last I read, so I don't know whether I should or not.
Any whose it. Enjoy!
----------------------------------------
-----------
Okay, YAY for being productive...
..but sheesh I really need to sleep. So after I did the iCad actions, I watched my tutorial video finally. I laughed a little at my silliness and then I thought well, "I've already done iCads, might as well do Annas."
So here ya go. This is her old colors, as I haven't looked at her newer ones yet.
https://www.box.com/s/e64cb0405a7793bbbf98
Use them, abuse them, give credit to Anna and hopefully her new ones will be out soon and I will have wasted 10 minutes of time, while trying to make myself sleepy.
Enjoy! *goes to crash face first on her bed*
Oh, forgot to say this is best used with a white base texture. It can also be used with Pooklet's volatile but may require a little tweaking. Right now I'm going to faceplant!