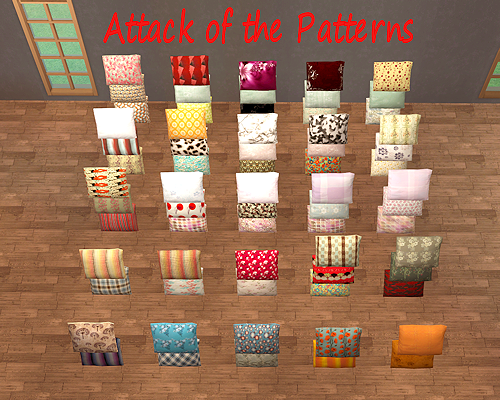 Yes, I actually do use more than
an_nas
&
icads_sims
palettes. I know, so shocking. Although sometimes the patterns play havoc with my eyes. I still like them. Okay, so the patterns came from webtreats, Colour Lovers and random google fu. There are 70 different patterns so hopefully I have something for everyone.
Now to the technical stuff...
None of the meshes are included!
I know Jonesi allows the upload of her mesh but I figure most people have it.
However if you don't let me give you some links for what you'll need.
Holy Simoly Simply Elegant Curtains
(Original Meshes)
Holy Simoly Updated by Huge Lunatic
(The ones I use)
Nengi's Big Rug 3x4
Add On Rugs by Huge Lunatic
Jonesi Bed Blanket Fixed bu Huge Lunatic
MysticRain's Earth Living Pillows
Also for a few of the extras please go
here
for
hokadk47
s slaves. They are seriously amazing.
Okay got all that out of the way! Now I can give you goodies.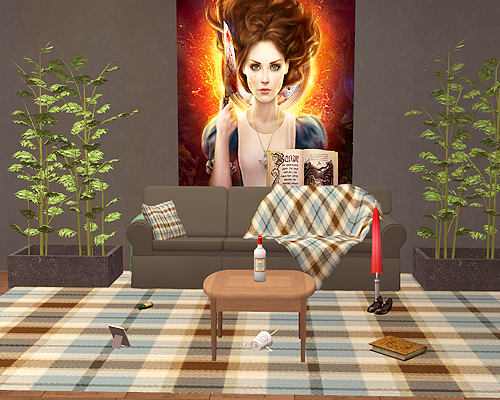 Mystic Rains Earth Living Pillow
Nengi Big Rug 3x4
HS Simply Elegant Curtains
Jonesi Bed Blanket
(The Bed Blanket includes little swatches so you can see each pattern clearly.)
I know 70 patterns is A LOT but I swear I'm just sharing my addiction. All Files compressed and yes clearly named for easy removal. :) Enjoy!
Current Mood:

devious

Current Music:

Blue - Big Bang