Yes, my lack of wit is amazing even me today. Once again this is just one of those expansions where I don't use many of the objects. I still have to figure out whether I want to do the tiki set or not. I just really don't use it. So, without further rambling from my insane mind..
The Basics:
Wood Palette by
icads_sims
Fabric Palette by
an_nas
Although, I think it's mostly wood in this update. I would recolor everything in
an_nas
colors but I do so love iCads wood palette.
The Goodies: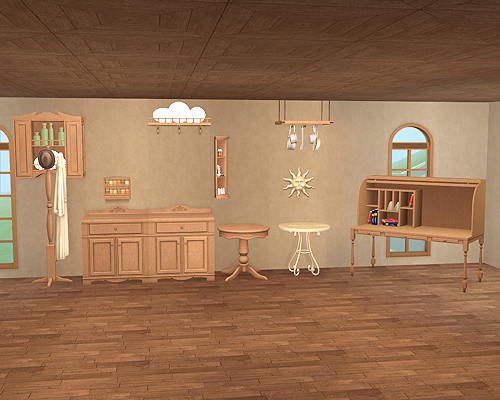 A Less Than Threatening Rack
A Not So Lonely Shelf
Blue Ribbon Counter
Coat Rack De Lovely
La Cara Del Sol
More of This and That Pot Rack
Rack of Plates
Ranchers Round Table
Spice Traders Starter Kit
Table De Bistro
The Rollin Secretary Desk
Auntie Mae Barstool
Park Parthenon
The Cozinator 450 Dining Chair
The Exquisite Bistro Chair
Back Country Vanity
Cushion
/
Wood
Home Style End Table
Rustic Glass Floor Mirror
The Back Forty Armoire
The Cabi Mirror
The Crustikus Dresser
The Four Post Bed
All files compressed and simply named for easy removal of those you don't want. Enjoy! :)
Current Mood:

tired