I've been working on these off and on since Dragon Valley was released. I even got to try a few new things and crashed my game several times. I don't think all of them are perfect and I do plan to tweak a few of the meshes but they are functional. I'm not sure why the grill is missing the metal scroll work at the base or why the hot tub looks off in one position but not the other. It's minor placement issues that I still have to fix. Although, I figure it's 99% done and maybe someone could give me a heads up what I did wrong to fix this.

So a little bit of information. All the meshes come from the TS3 Store world Dragon Valley. I just added to joints to some things and did a bit of scaling. You know a little bit of moving meshes and all that to fit into the Sims 2. I cloned most of the meshes off of base game things where I could. However, the fountains do require University. The Bonded Tapestry has all of it's original recolors. I couldn't find them for the Lizard's Lament, I'm sorry. I looked high and low in s3pe and the only textures I found are the one I found with TSRw. I also removed the table cloths from the picnic tables because that just didn't seem to fit for me.
I did not to any build mode items because masks still scare me. :P Also I didn't do the plumbing that came with DV because I think there are better custom meshes out there. I had some errors with the Great Hall Dining Chair where the texture doesn't fit the mesh. I don't know what's wrong with that. If, I ever get it fixed I will upload it.
On to the crappy pictures because I'm still with minimal CC at the moment.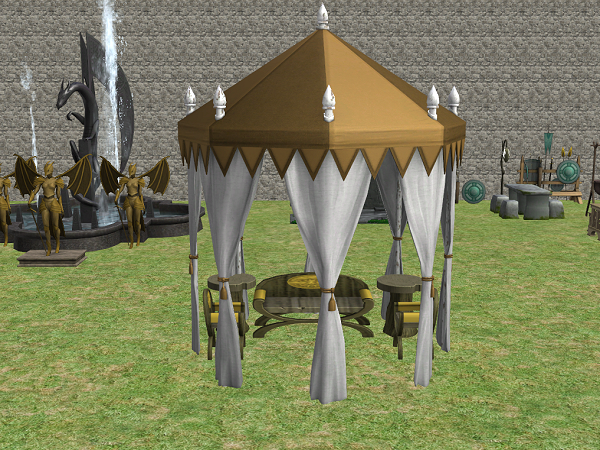 Protective Pavilion Tent (on a one tile mesh so you can put stuff inside! I can't remember the poly count off hand but I wouldn't place too many on one lot with a lower end computer)
Belefire End Table plus add on Dining Table
Runefire Chair plus add on Bench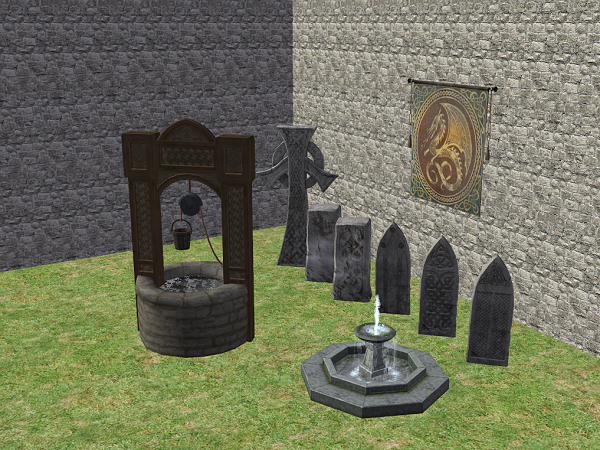 All the Tombstones!
Well of Wisdom (This is just decorative! I tried extracted the joints to the seasons wishing well but nothing pulled, so I gave up)
Circle of Stones Fountain (It works! Requires University!)
Bonded Tapestry (I think this may require Freetime but I'm not sure! I'm sorry, I wanted a good two tile mesh that was long and the Artig Painting fit that!)
JR Knight Gym (See the little kid on the road he tested it. :P Only one color option.)
Lil Dragon Tamer Spring Rider (Requires AL! The toddler holds on to air but I figure that's okay as it still functions like it should.)
Song of the Bard Chair, Plus Bonus Bench!
Knotted Torch
Outdoor Lamp Light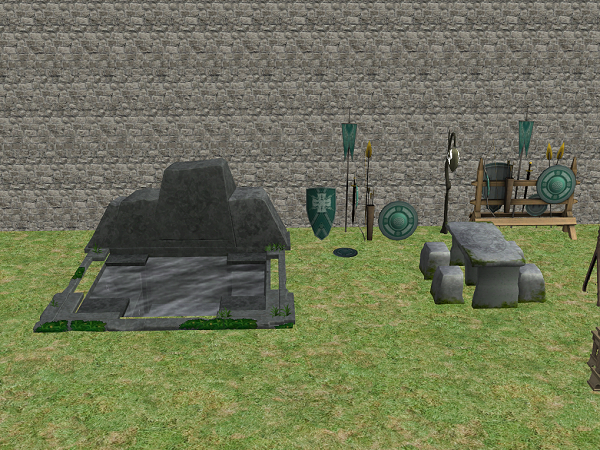 Celtic Charm Hot Tub (See what I mean about the sinkage. If you follow my tumblr, I showed a picture of this and the only spot you could see grass was where it should be. *sighs* I'll get to fixing it soon but I know I have it at the right height. Also, sims will enter through the rocks.)
Siren's Call Light
Weapons Rack, plus bonus extracted weapons! (all weapons are slaved to the rack)
Wake of Harmony (This was meant to be a picnic table in TS3 but I did my poking and mangling! You get a dining table and two chairs. The chairs are slaved to the table!)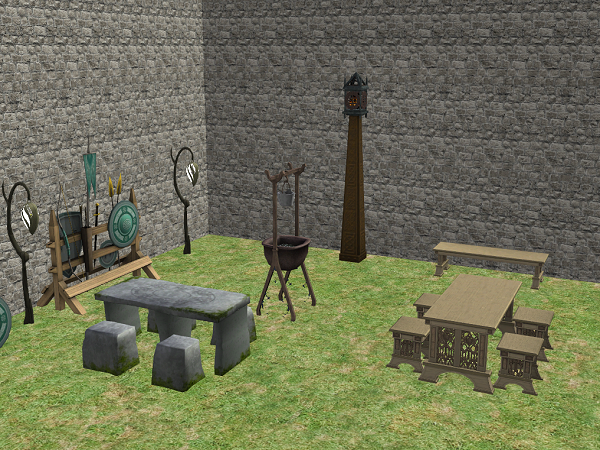 Community Grill (Notice the missing scroll work but all the animations are still there!)
Meet me Over Meat (Another picnic table separated. The table is the master to the bench and the dining chair!)
Lofty Roof (This was supposed to be a lantern but when I saw the size of it, I just turned it into deco.)
Dragon Slayer Heroine (The original statue is in the front and my debased add on is on either side. The Master is the original.)
Lizard's Lament Fountain (This fountain is really pretty and I still want to take the dragon off of it, which I probably will at a later date. I just have to play catch up with other stuff first. This is the biggest object I've ever done. Requires University!)
Tired of reading, yet? I know I'm tired of typing. I think this is the most informative I've ever been. :P
As always have fun and enjoy!