Several weeks ago, jensmustles asked for a white recolor of the billy bookcase to match my defaults, well I finally got around to doing it. What you get with this add on is all the objects buy and build done in 2 new colors. I added black and white to the woods and decided to include brown and dark blue to the standard fabric swatch. So that gives you a total of 12 options for the woods and 12 for the fabrics. I hope this makes everyone a happy camper now.
All files are compressed!
Also while doing this I created a few new CEPs, mostly to keep me sane and mostly because this is a LOT of work.
I decided to link the AL Mysterious Bookcase and the BG Renaissance Bookcase to the AL Very Mysterious Shelving. I figured it only made sense since they use the same texture. I mean c'mon really?
I also took the BG Cheap Eaze Morrisey Bed and linked it to the BG Craftmeister Pine Bed. This may have already been done before or it could have been the reverse I wasn't too sure.
The last thing I did was take the BV Solidarity Door and link it to the AL Unique Seperator. Why did I not do the reverse? Well the AL door had more options than the Solidarity Door and I thought that made more sense from a recolor stand point.
DO NOT place these in your downloads folder. They go in zCEP-EXTRA folder!
Documents > EA Games > The Sims 2 > zCEP-EXTRA
Download CEP Files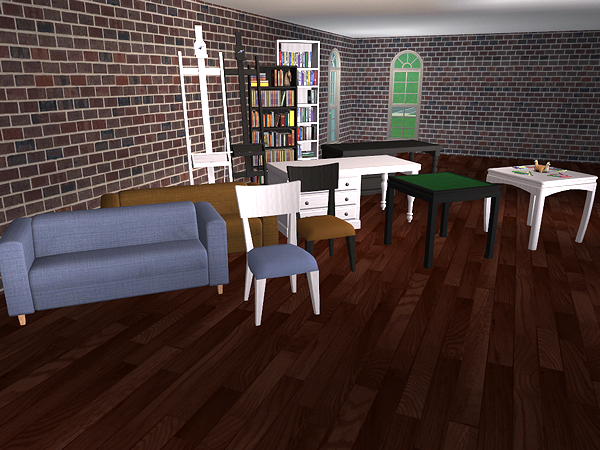 Yes, there is only one preview shot but that basically shows all the color options for ALL the files. Is this possibly lazy? Yes. Do I care? Not at the moment. I am for the most part finally done with the default project. Yes, there are things I still want to default, but they can wait for awhile as I'm learning new and exciting things. :P
This does include all buy and build mode objects that I have defaulted thus far. The colonial swatch was updated in a previous update so I didn't have to worry about those.
DOWNLOADS
Base Game
AL
BV
FT
GLS
IKEA
KBS
NL
OFB
PETS
SSN
TSS
UNI
As always enjoy and have fun!