Okay, so my massive project has finally reached the wall and floor category. I decided to do these first since I thought they would be easiest. Boy howdy was I wrong. They were a pain in the rear. I'm not going to spam you with a crap ton of pictures. I'm just going to show a before and after photo. I used the Goth house for this so most of you will be familiar with the walls.

The files are all compressed and put 64x64 images of the old & new files in the rar. I hope that's okay with everyone. The file names on the pictures are what they are in SimPE. I tried to combine like floors and walls with each other. Sometimes that was a mistake and others well, yeah. Everything that has the same basic name in the game in lumped together. This category was hard trying to match to the old walls and floors so I eventually gave up. I will say this is hella randomness and I'm sorry. I hope the next defaults will be a little better. I just didn't realize how many floors were in tile until I started defaulting. I think I did all but maybe 5 or 6 floors.
BEFORE:
AFTER: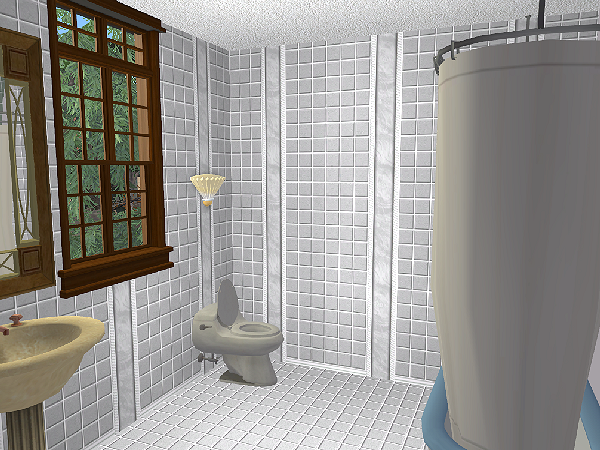 Downloads
Default Lino
*UPDATED*
Default Tile Floor
*UPDATED*
Default Tile Walls
*UPDATED*
Please read the credits so you know what you are getting before you download! Also, sorry for the crappy pictures this project is really taking it out of me!
Credits:
CuriousB -
Everything Old is New Again
(Used mostly for Lino)
Donnha
- I used most of her tiles (Thank goodness for those!)
Anna -
Matching Walls for Donnha's Grunge Tile
Tofu Snorlax
- Used in the Lino section, I think I used most of their stuff.
iCad
- I used the Bronza Age tile Floor, Saltillo Tile, & Tropical Mosaic Floors
(I would recommend getting the walls for completeness)
dimsim78
- Used one tile floor, no matching walls
StudioK
- I love their walls and floors so much. I don't really like the colors so I redid them in the KBS Plumbing colors and defaulted like mad. So credit to him/her for the base!
Lina -
Spring Renovation Tiles
(These came out when I realized I needed extra, I liked so I snagged. All you need is the wall files for completeness. Thank you, Trapping for all the wonderful walls and floors I'm using in this insane project!)
Saturnfly
- Used one tile floor set, so no extra walls to download.
joninmobile -
Kashka Floor Set
(no walls needed)
I did make some walls during this little project to complete CuriousBs floor set, however I don't really like how they turned out so I'll go back and work on them some more. I'll upload them after I finish this default project so please keep that in mind.)
If I forgot anyone in the credits, I am sorry! It's not intentional I just have A LOT of extracted walls and floor files on my PC at the moment! I try to write down who created what but when you get a lot of wall_3472648276, etc it's really hard to know who did what.
As always enjoy and have fun! If you do not like how I default the walls and floors please feel free to use my files as a base and create your own. It's really easy and then again it's not to round up that many walls and floors. *runs of laughing*
Edit: I forgot to mention that I didn't label these by ep/sp like I normally do. I got lazy! (okay, not really this is just a lot of work but you can eyeball the old/new pictures and see what you may or may not have in your game. I'm sorry about this but yeah big project is BIG!